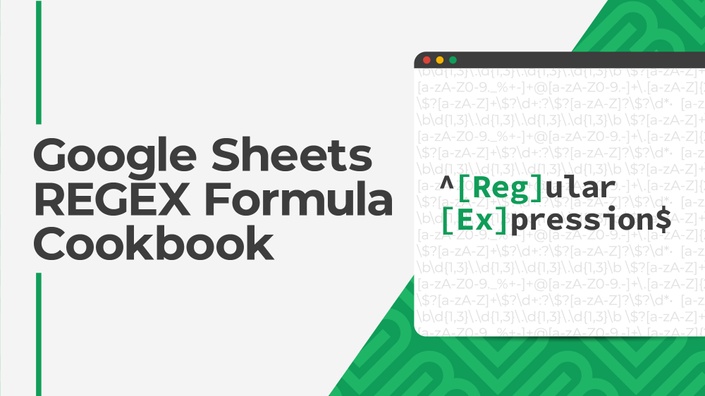 The Google Sheets REGEX Formula Cookbook
Enhance your data skills and learn how to use the powerful REGEX formulas in Google Sheets
A regular expression, or REGEX for short, describes a search pattern that can be applied to text data to find matches.
If you work with data in Google Sheets, learning to use the REGEX formulas is enormously useful.
Why learn REGEX?
Data often arrives in a less-than-ideal format.
Before you can analyze it, you need to transform it into a more useful form, for example, splitting it into multiple columns, rearranging the order, extracting numbers, etc.
Whenever you work with text data, the REGEX formulas are incredibly powerful.

But they have a reputation for being hard.
To the uninitiated, they're impossible to decipher.
The REGEX language is opaque and looks like random computer symbols…

...until you understand the basic rules.
Armed with the knowledge of the REGEX syntax, you'll find all sorts of useful applications for these formulas. When others manually deal with text data or write monstrously complex nested formulas, you can write a short REGEX rule, and bingo, get your results in no time.
This course will help you master the REGEX Formulas in Google Sheets.
By the end of this course, you'll be confident about:
What REGEX is
Why REGEX formulas are so useful
When to use different REGEX formulas: MATCH, EXTRACT and REPLACE
How to write REGEX rules to solve problems
Understanding 200+ examples from the REGEX Formula Cookbook Template
Who this course is for:
Intermediate and advanced Google Sheets users
People who want to work with data more effectively
Individuals looking to master advanced formulas
Climb to the top of FORMULA MOUNTAIN
You're a Google Sheets power user.
You mastered the VLOOKUP a long time ago. You know your way around the QUERY function and are a data analysis whiz.
But, getting your data into the best format is still a pain in the backside.
Time to ascend to the top of FORMULA MOUNTAIN and master what are arguably the hardest formulas in the game: the REGEX formulas.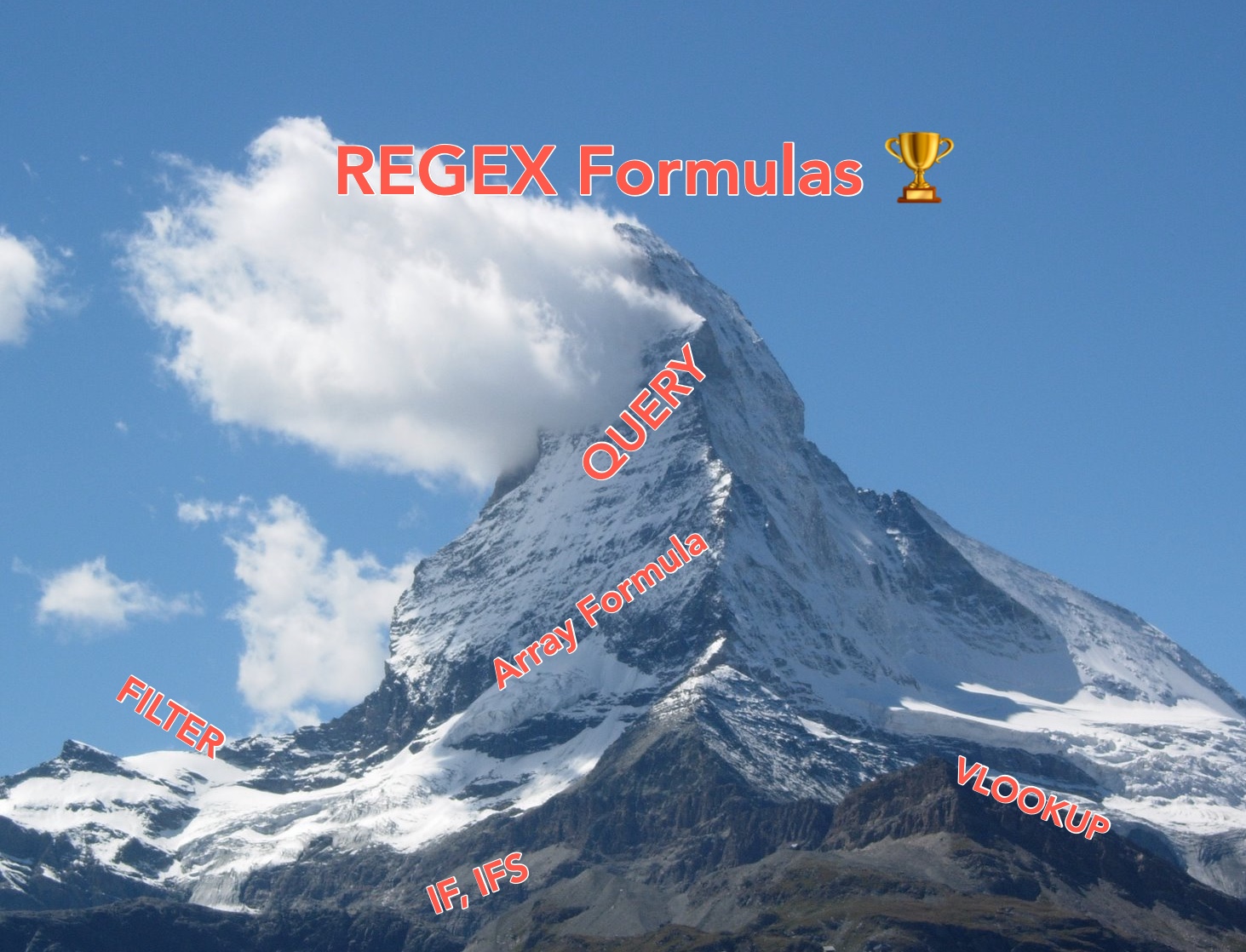 REGEX formula skills are rare and valuable
When you know how to use the REGEX formulas, you can:
Use a single formula to solve data problems that would need hideously complex regular formulas
Develop flexible formulas to handle a wide variety of use cases
Do things with data no one else in the office can do
Quickly and easily manipulate text data
Feel more confident in your work
Work more efficiently
Enroll now and get:
Actionable, bite-size video lessons that walk you step-by-step through techniques
Access to the REGEX Formula Cookbook Template, which you can copy and reuse as many times as you like
Access to the private course community group for Q&A
Certificate upon completion you can put on your resume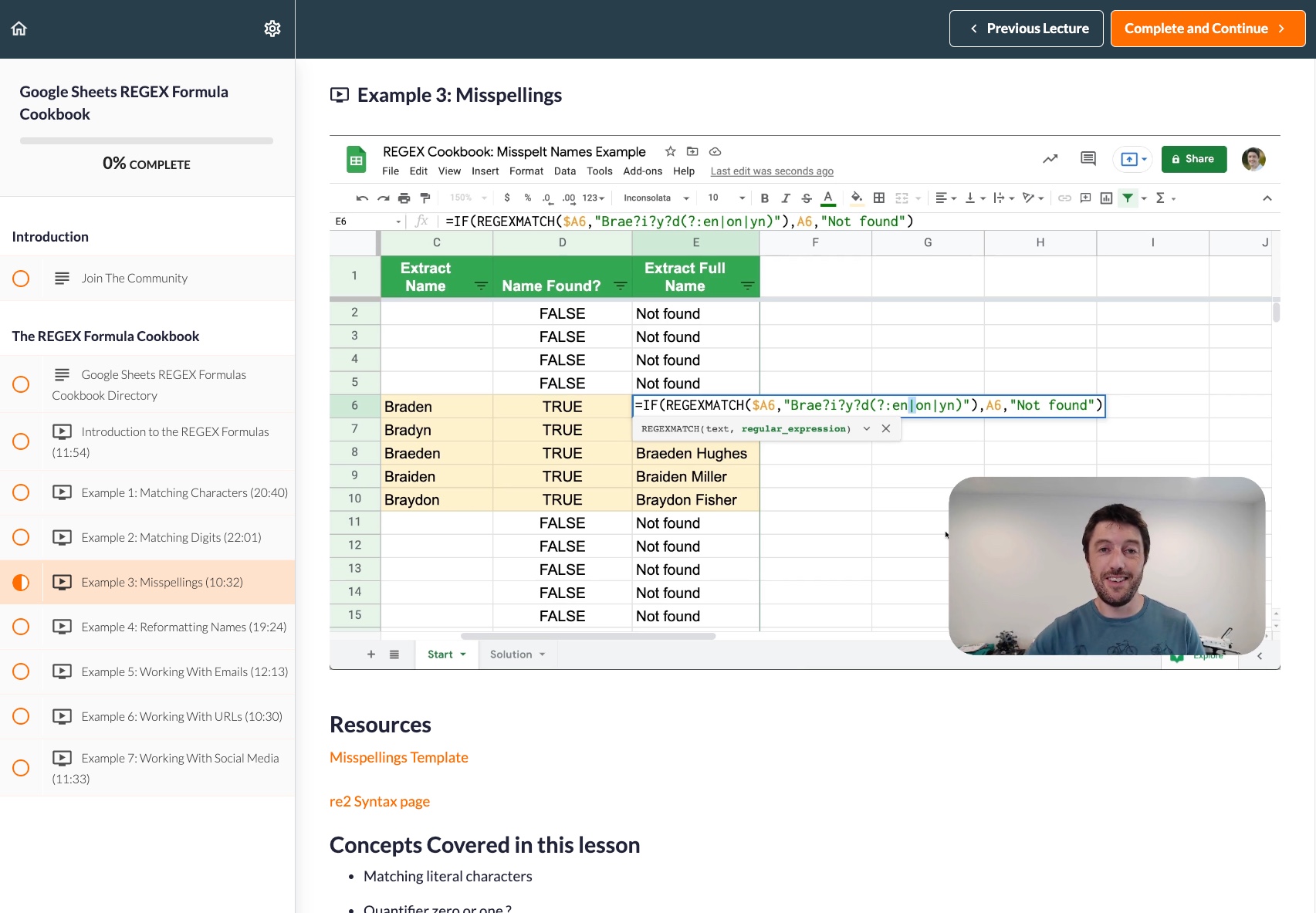 The REGEX Formula Cookbook Template
Your course purchase includes the REGEX Formula Cookbook template, a Google Sheet file packed with 100's of examples of regular expression formulas with detailed explanations of how they work.
You're free to make your own copy of this template, which is yours to modify, adapt and evolve however you wish.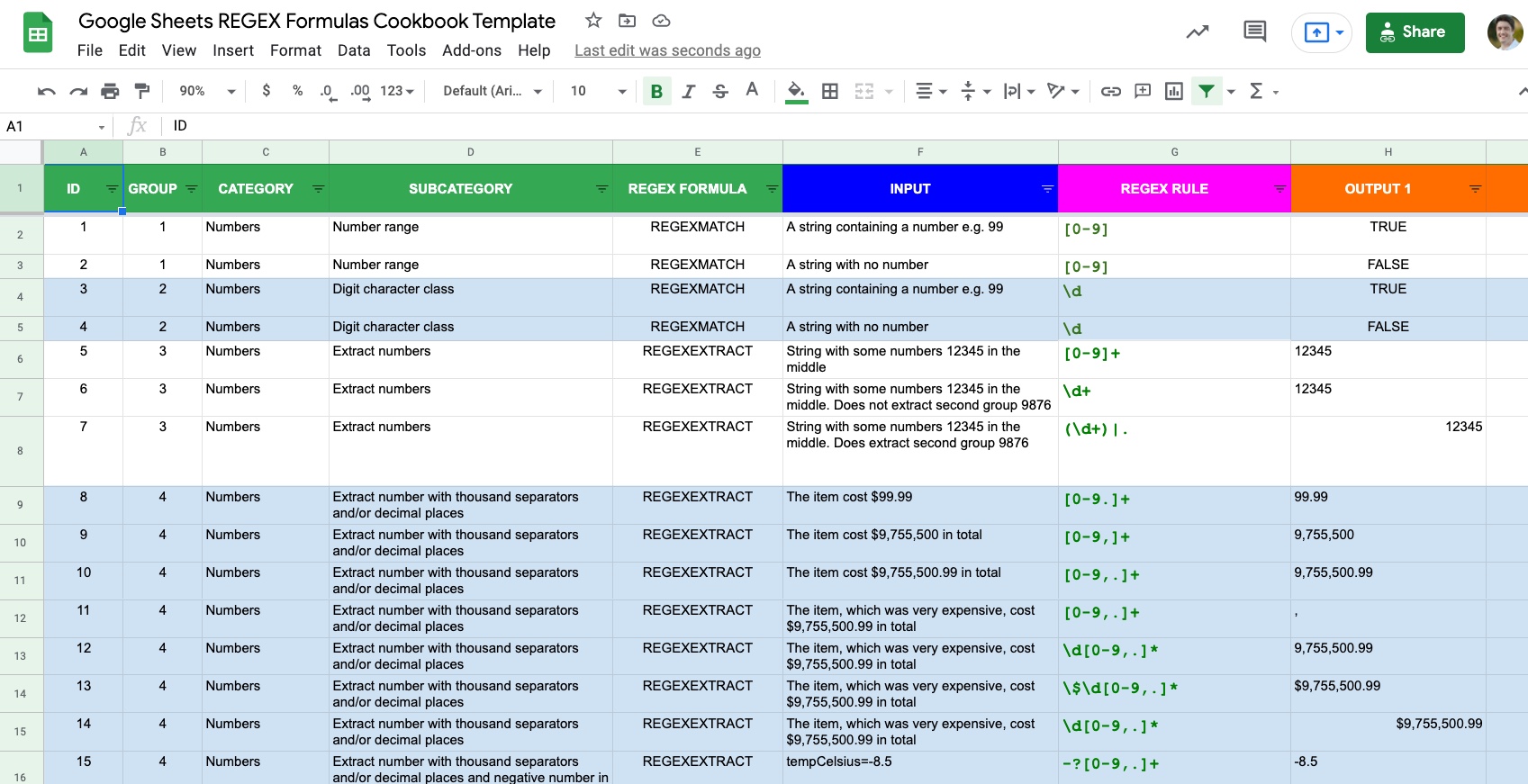 Your Instructor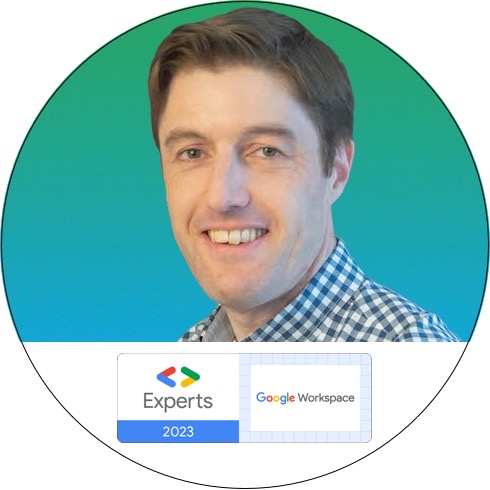 Hi! I'm an experienced data analytics instructor and freelance spreadsheet developer.
I help individuals and businesses better understand their data through analytical insights and visualizations.
Over 50,000 professionals from 1,000+ companies have enrolled in my training courses, including employees from PwC, Netflix, Verizon, Google, Capital One, and other Fortune 500 companies.
My training has helped 1,000's of people advance their careers. I've also helped small and large organizations migrate from Microsoft Excel and Office to Google Sheets and Google Workspace.
Google recognized me as a Google Developer Expert for Google Workspace Technology in 2019, one of only a handful worldwide.
I work primarily with Google Sheets and Apps Script, and also have extensive experience with Google Looker Studio, Microsoft Excel, BigQuery, SQL, and Tableau. I've previously taught data courses and workshops for General Assembly in Washington, D.C..
Course Curriculum
Introduction
Available in days
days after you enroll
Part 1: Google Sheets REGEX Formula Cookbook Video Lessons
Available in days
days after you enroll
Part 2: Google Sheets REGEX Formula Cookbook Template
Available in days
days after you enroll
Frequently Asked Questions
How long do I have access to the course?
How does lifetime access sound? After enrolling, you have unlimited access to this course for as long as you like - across any and all devices you own.
What if I am unhappy with the course?
We would never want you to be unhappy! If you are unsatisfied with your purchase, contact us in the first 14 days and we will give you a full refund.
How much time does the course take to complete?
I've created a lot of content for you… over 2 hours of video content and 100's of formula examples. Depending on your experience and comfort with formulas and advanced concepts, I'd estimate that it will take you 5 - 20 hours total time to get comfortable with the material. HOWEVER… I know you're busy so each topic is divided into a series of 10-20 minute videos so you don't have to plan days and days around studying this topic. I'd advocate doing the lessons in batches spread across a few weeks or months, to give yourself time to absorb the knowledge.
Will I get copies of the datasets and solutions?
Yes! All the templates and solutions are provided, so you can download your own copies. Clicking on the template links will open the files so you can make a copy on your Drive account.
How do I get access to the private course community group?
When you enroll, you'll receive the link in the last lesson of the introduction chapter. Once you've joined, feel free to introduce yourself and let us know how you plan to use your newfound knowledge.
What if I can't figure out something on my own?
You can ask for help in the private community group for students! As a member of this group, you can ask questions, share your ideas and knowledge, and connect with other students.
What if I don't have a technical background?
Don't worry, you won't be alone! This course focuses on practical techniques and teaches concepts through real-world examples, so that you won't get lost in abstract theories and dense lectures. As long as you aren't afraid to roll up your sleeves and put some effort in, then you'll be able to grasp the content of this course. You're free to watch the lessons in any order and as many times as you like, so you can take as long as you want!
Is this course suitable for complete beginners?
Not really. You will find it tough. The REGEX formulas are some of the more difficult formulas in Google Sheets. You might be better placed working through my Google Sheets Essentials course first.
Do you offer Parity Purchasing Power discounts?
Yes, I want my courses to be affordable to folks overseas in developing countries, who would otherwise not be able to purchase them. How does it work? Drop me a line with proof of where you're based and I'll be glad to offer you a PPP discount on the course.
Why am I being charged sales tax or VAT?
In order to comply with regulations in some US States, the EU, and other overseas countries, some buyers may be charged sales tax or VAT at checkout. This money is passed on to the relevant tax collection agency.
Can you provide an invoice for my company?
Yes, of course! You'll receive a receipt after you purchase, but if you need something additional, please contact us and we can provide an invoice.
My company is interested in a bulk order. Do you have enterprise deals?
When does the course start and finish?
This course is online and completely self-paced. Start whenever you're ready (it's available right now if you want) and take as long as you want to finish.